[ad_1]
Summer is the time for crochet patterns that call for lightweight yarn, not too heavy or too warm while lying in your lap, easy to pick up and take with you on a road trip, sitting in the doctor's office, even to the ball park.  We have a handful of different Fingering Weight alpaca yarns …  Mariquita, and Paca Peds from The Alpaca Yarn Company, and several of our lines of Farm Yarn from our own alpacas.  I've put together a collection of twenty of my favorite free crochet patterns, most of them requiring just one skein of fingering weight yarn.  Hope you find one you like!
Fortune's Shawlette by Tamara Kelley of Moogly
Fortune's Shawlette was inspired by the ubiquitous corner to corner stitch, aka the diagonal box stitch.  The result is gorgeous, and just right for year round – bunch it up for warmth, stretch it out for a light as air layer on the shoulders.
Furrow Socks by Figpox Farms Designs
Handmade socks are one of life's true luxuries, and heavenly to wear a pair of socks that are handcrafted from soft and luxurious yarns like alpaca.
Going to Wales by Sandra Paul
You don't have to go to Wales to make this light, airy scarf for the "confident beginner".  It's a perfectly portable project, if you need a project while travelling.
Spinny Chullo by Annie Modesitt
A cute hat good for any head, with a spinning pattern worked from the top down.
Isar Scarf by Julia Vaconsin
This is a very simple mid-season scarf that is perfect to show off a beautiful hand dyed yarn.
Fern by Jan Powers
This soft and light wrap curls around you like a fern frond.
Crocodile Stitch Dragonscale Fluffy Gloves by Tahara
Now these are some fun gloves, with a free pattern written for small, medium, and large sizes.
Dragon Wing by Aklori Designs
This pattern requires a tunisian hook that can hold 100 stitches.  The wrap works up very quickly and is a great way to use up a smaller gradient cake.
Ultimate Crocheted Socks by Dorothy Hardy
These socks are crocheted from the toe-up. The heel is crocheted as you go; no after-thoughts.  The custom fit is better and you're finished when the cuff is done.
Artfully Simple Angled Scarf via Tamara Kelley of Moogly
This mesh scarf works wonderful year round, and can be worn a variety of different ways.
Crocodile Pixie Hat by Pia Thadani
Super cute hat!  Pattern contains a short photo tutorial for the crocodile stitch.
Spring Fling Triangle Scarf by Heather J Anderson
You could wear this scarf around your neck like a bandana or even as a shawlette. By using a much larger hook than called for, you are able to stretch how far one skein will take you because the stitches will be looser and farther apart.
When the Ocean meets the Scarf by MelissaFleur Hughes
This ocean theme scarf features 3D textures and patterns. The stitches include Wave stitch, Diagonal weave and a Looping Shells section. Stitches are shown with photos.
Belle Epoque Scarf by Elaine Phillips
Easy scarf pattern with a graph included.
Off to Sausalito by Jessie Rayot
This striking unisex hat is worked in continuous rounds and features spiraling stripes in a simple single crochet v~stitch.
Star Mitts by Rae Blackledge
Keep busy hands comfortably warm with these hip fingerless mittens.
Vagabond by PurpleIguana
"Simple doesn't have to mean boring," Vagabond is a lightweight addition that floats around your shoulders and looks good in just about any yarn.  This crochet pattern has a video tutorial.
Cute hat with a video tutorial and yarn converter if you want to use a different weight yarn.
Garden Trellis Cowl by Petra Cosgrove-Tremblay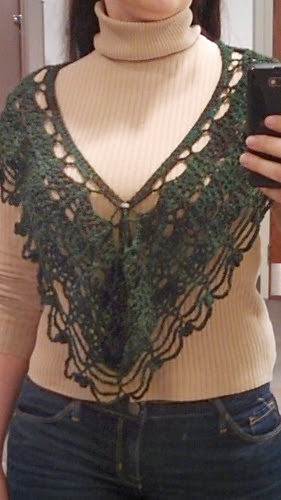 A fitting name for this pretty cowl that looks like a garden trellis.
Scallop Stitch Cardigan by Fatima
This is a very easy crochet cardigan uses a simple close-weave lace pattern.
Which will you try first?  I think I'll try When the Ocean meets the Scarf  … I love the texture of the Wave stitch, Diagonal weave and Looping Shells.  Oh and I do have a pair of socks started out of our Paca Peds yarn.  No sense in getting bored!
[ad_2]
Source link